Are you looking for an opportunity to share Christ with God's people in NYC? Do you enjoy being in nature and want to use a natural setting as a way to present the Gospel?
Camp Deerpark is seeking to hire an Executive Director to lead the talented team of folks who care for the place that New Yorkers call home.
A ministry of the New York City Mennonite Churches, Camp Deerpark is a community of Christ where children, youth, and families from all cultures are welcomed to fellowship together in the serenity of God's creation.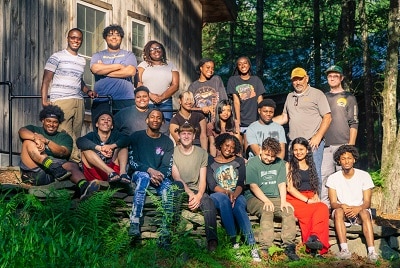 Full-time position
Salary & benefits
Live on grounds
General leadership of camp ministry
March - June: accepting resumes
July - August: board interviews
September: hire new executive director
January, 2024 new director moves to camp
April, 2024: Ken and Deborah leave camp
Note: the above timeline is flexible depending on the needs of the new director.
Necessary Characteristics:
Must love God above all
A passion for God's people in New York City
Commitment to the work of the local church in the NY metropolitan area
Commitment to camping and retreating ministry
Strong communication and listening skills
Cross-cultural experience and competency
Bachelor's degree or higher is preferred
Great things about working at Camp Deerpark:
Facilitate an inspirational experience for New Yorkers, creating a place where kids, youth and everyone can experience the welcome and peace of Christ and bring that back to their communities
Be an integral part of an inter-cultural sanctuary where walls come down and true relationships are molded
Allows for creativity with new ideas to keep shaping and growing programs that have an impact beyond the boundaries of camp.
Opportunity to grow spiritually, professionally, and acquire new skills by working for a loving and Christian-based community
Join an incredible community of churches and individuals who support the mission
Grow camp from a place of strength; including new cabins, a program center, and other improvements that encourage an active and engaged community.
An amazing staff team to work with
Opportunity to facilitate development of emerging leaders
Privilege of working in a peaceful environment surrounded by nature
Help facilitate church communities welcome new believers into their fellowship
Observe and help children and youth grow in confidence, character, and faith
Salary package $85,000 - $90,000
Includes:
Living in a newly renovated four-bedroom home
Retirement contributions
Continuing education opportunities
Vacation, holidays, personal days
A full compensation and benefits package is available upon request